Böcker av Nobelpristagare Books by Nobel-prizewinners
Jag har som mål att samla minst en bok per Nobelprisvinnare, och naturligtvis att läsa dem också! Har du en bok av en "saknad" författare så titta på min BC-bokhylla om jag har något av intresse bland AVL eller TBR (status måste vara satt av mej, och boken får ej vara bokring/-stråle). Observera dock att jag tänkt behålla boken, så gör det inte om du vill att boken ska fortsätta cirkulera!
Nedan är en lista över Nobelpristagarna samt de böcker jag läst. * betecknar böcker jag har i min hylla. Röd text är en bok som jag har men ännu inte hunnit läsa.

I have as a goal to collect at least one book by every Nobel-prizewinner, and of course to read them to! If you have a book by a "missing" author, have a look on my BC-shelf and see if there is anything of interest among my AVL or TBR:s (status set by me, and not part of a bookring/ray). Please observe that I intend to keep the book, so if you want the book to keep circulate this is not the thing!
Below is a list of the Nobel-prizewinners, and the books I have read. * signs a book in my shelf. Red text is for a book in my posesion that I haven't read yet.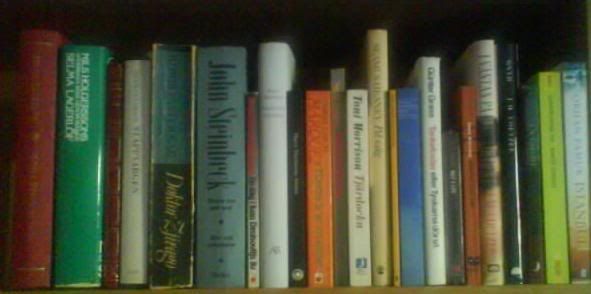 Updatet by mariabokmal 2014-06-22.
2013 Alice Munro -- För mycket lycka
2012 Mo Yan -- Det röda fältet*; Vitlöksballaderna
2011 Tomas Tranströmer -- Dikter och prosa 1954-2004*
2010 Maria Vargas Llosa -- Bockfesten*; Tante Julia und der Kunstschreiber; The bad girl*; Det gröna huset*

2009 Herta Müller -- Herztier*, Idag hade jag helst inte velat tr&aumlffa mig själv
2008 Jean-Marie Gustave Le Clézio -- Afrikanen*; Skattsökaren*
2007 Doris Lessing -- Gräset sjunger; Den femte sanningen*
2006 Orhan Pamuk -- Den vita borgen; Istanbul*; Snö
2005 Harold Pinter -- Tolv gånger Pinter*
2004 Elfriede Jelinek -- Die Klavierspielerinn*
2003 J.M. Coetzee -- Onåd*; I väntan på barbarerna*; Pojkår; Ungdomsår; Elizabeth Costello*
2002 Imre Kertész -- Mannen utan öde*; Kaddish för ett ofött barn*; Fiasko*
2001 V.S. Naipaul -- Half a life*; The enigma of arrival*
2000 Gao Xingjian

1999 Günter Grass -- Tankefoster eller Tyskarna dör ut*; Das Treffen in Telgte*
1998 José Saramago -- Blindheten*
1997 Dario Fo -- Dario Fo x 4*
1996 Wislawa Szymborska -- Dikter 1945-2002*
1995 Seamus Heaney -- På väg*; Death of a naturalist*
1994 Kenzaburo Oe -- M/T och Berättelsen om skogens under*; Tid f&oumlr fotboll*
1993 Toni Morrison -- Beloved; Tjärdocka*; Sula; Jazz; Solomons sång; The bluest eye
1992 Derek Walcott
1991 Nadine Gordimer -- Min sons historia*; Burgers dotter
1990 Octavio Paz

1989 Camilo José Cela
1988 Naguib Mahfouz -- Respektable herrn*; Sorl över Nilen
1987 Joseph Brodsky
1986 Wole Soyinka
1985 Claude Simon -- Gräset*
1984 Jaroslav Seifert -- Strängar av spindelväv*
1983 William Golding -- Lord of the flies*
1982 Gabriel García Márquez -- 100 år av ensamhet*; Kärlek i kolerans tid
1981 Elias Canetti -- Den räddade tungan*; Facklan i örat*; Das Augenspiel*
1980 Czeslaw Milosz

1979 Odysseus Elytis
1978 Isaac Bashevis Singer -- Vilse i Amerika*; Jacobys hus; Godset*; Familjen Moskat*; The collected stories*
1977 Vicente Aleixandre
1976 Saul Bellow -- Han med foten i klaveret*
1975 Eugenio Montale
1974 Eyvind Johnson / Harry Martinson -- Strändernas svall; Romanen om Olof*/Aniara*; Nässlorna blomma*
1973 Patrick White -- Fallet Twyborn*
1972 Heinrich Böll -- Die verlorene Ehre der Katharina Blum*; Skyddande belägring*
1971 Pablo Neruda -- Minnen. Jag bekänner att jag levat*
1970 Alexandr Solzhenitsyn -- En dag i Ivan Denisovitjs liv*; One word of truth... The Nobel speech; Den första kretsen*

1969 Samuel Beckett -- I väntan på Godot*; Slutspel*; Spel*
1968 Yasunari Kawabata -- Tusen tranor*
1967 Miguel Angel Asturias
1966 Samuel Agnon / Nelly Sachs -- /
1965 Mikhail Sholokhov
1964 Jean-Paul Sartre -- The age of reason*; The reprieve*; Iron in the soul*
1963 Giorgos Seferis
1962 John Steinbeck -- Månen har gått ned*; Möss och människor*; Pärlan*; Vredens druvor
1961 Ivo Andric
1960 Saint-John Perse

1959 Salvatore Quasimodo
1958 Boris Pasternak -- Doktor Zjivago*
1957 Albert Camus -- Främlingen*
1956 Juan Ramón Jiménez
1955 Halldór Laxness -- Atomstation*
1954 Ernest Hemingway -- Farväl till vapnen; Den gamle och havet; To have and have not*
1953 Winston Churchill
1952 François Mauriac -- Den fariseiska kvinnan*
1951 Pär Lagerkvist -- Dvärgen; Barabbas*; Gäst hos verkligheten; Ahasverus död
1950 Bertrand Russell

1949 William Faulkner -- Det allra heligaste*; The sound and the fury
1948 T.S. Eliot
1947 André Gide -- Jordisk föda; Den omoraliske; Den trånga porten*; Falskmyntarna
1946 Hermann Hesse -- Stäppvargen*; Siddhartha; Rosshalde; Glaspärlespelet
1945 Gabriela Mistral
1944 Johannes V. Jensen
1943-1940 #

1939 Frans Eemil Sillanpää -- Silja*
1938 Pearl S. Buck -- Brevet frå Peking*; Den goda jorden*; Regnbågen*
1937 Roger Martin du Gard
1936 Eugene O'Neill
1935 #
1934 Luigi Pirandello - One, no one and one hundred thousand
1933 Ivan Bunin
1932 John Galsworthy
1931 Erik Axel Karlfeldt -- Fridolins lustgård & Dalmålningar på rim*
1930 Sinclair Lewis -- Babbit; Main Street; Av kungligt blod*

1929 Thomas Mann -- Der Tod in Venedig; Buddenbrooks*; Bergtagen
1928 Sigrid Undset -- Jenny; Kristin Lavransdotter (Brudkronan, Husfrun & Korset)*
1927 Henri Bergson
1926 Grazia Deledda
1925 George Bernard Shaw -- Pygmalion*
1924 Wladyslaw Reymont
1923 William Butler Yeats
1922 Jacinto Benavente
1921 Anatole France
1920 Knut Hamsun -- Pan*; Hunger; Markens grøde

1919 Carl Spitteler
1918 The prize money was allocated to the Special Fund of this prize section
1917 Karl Gjellerup / Henrik Pontoppidan -- /
1916 Verner von Heidenstam
1915 Romain Rolland
1914 The prize money was allocated to the Special Fund of this prize section
1913 Rabindranath Tagore
1912 Gerhart Hauptmann
1911 Maurice Maeterlinck
1910 Paul Heyse

1909 Selma Lagerlöf -- Nils Holgerssons underbara resa*; Gösta Berlings saga*; Jerusalem; Herr Arnes penningar; Kejsarn av Portugallien
1908 Rudolf Eucken
1907 Rudyard Kipling -- The jungle book*; The second jungle book*; Kim
1906 Giosuè Carducci
1905 Henryk Sienkiewicz -- Quo Vadis*
1904 Frédéric Mistral / José Echegaray -- /
1903 Bjørnstjerne Bjørnson -- Synnøve Solbakken*
1902 Theodor Mommsen
1901 Sully Prudhomme

# = The prize money was with 1/3 allocated to the Main Fund and with 2/3 to the Special Fund of this prize section